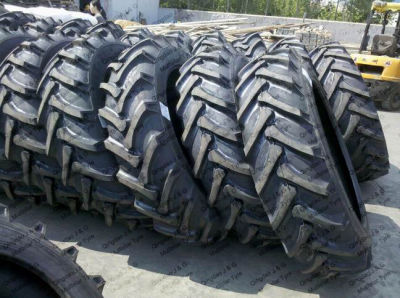 Tractors have a fairly wide range of applications outside of agriculture, even though they spend most of their time trundling around Australia's numerous farms. As a result, a sizable variety of Vredestein Tractor Tyres is available. However, because of their high cost, it may be challenging to get them if you are unsure of your exact requirements.
It's crucial to select the sort of tyre that corresponds with the planned usage since, unlike certain off-roading or passenger car tyres, tractor tyres are mainly created with particularly specific functions in mind. To assist, we've included some of the most popular tyre kinds below and who might purchase them.
R1: For Farming
R1 agricultural tyres are a good place to start your search if you plan to use tractor tyres on your farm or for field activities. They are perfect for use on muddy or soft ground since they provide the best traction. These tyres have pronounced tread that behaves more like a paddle in muddy situations than a tyre.
There are several subcategories of R1 tyres, including IF (Increased Flexion) and VF (Very High Flexion). Although these tyres tend to cost more, they are actually more fuel-efficient, and since they can operate at low pressures, they are excellent at protecting vegetation as you drive through it.
R2 – For Very Wet Agriculture
R2 tyres are for you if getting out of your tractor while it is in use would need you to be able to swim. These specialised tyres are typically only useful on rice or cane plantations and are for tractors that frequently operate in water. If not, you won't ever have a compelling reason to purchase them.
R3 – For Lawn & Grass
For settings with grass and lawns, R3 tyres are best. They are basically built with grip and maneuverability in mind, yet without endangering the surface underneath.
These robust, broad tyres are mostly used on concrete or other hard surfaces. They are roughly midway between the R1 and R3 tyres. They provide less surface protection than R3 grass tyres while providing more traction. On the other side, they have less grip than R1 tyres but are better at protecting the surface underneath.
Since they have the smoothest tread and don't function well in muddy or rainy circumstances (like golf courses), they are best used in locations where the quality of the lawn surface is important.
R4 – For Construction & Industrial
They are typically regarded as all-arounders and perform well when transporting huge loads over rough terrain. Industrial tyres are a decent place to start if you frequently tow big equipment through firm surfaces (such as country roads), however they aren't particularly appropriate for doing so in a muddy field.
They are better suited for major industrial regions and construction sites than agricultural land because of their stronger composition and structure.
HF Series For Commercial Field & Forestry
These tyres, known as HF tyres for High Flotation, are usually made to prevent tractors from sinking into a variety of surfaces and instead allow them to sit on top of them. While traction is still crucial, these tyres are perfect for regions where soil compaction is an issue.
F Series For Vintage Tractors
You most likely already have F Series tyres if your tractor still requires a crank handle to start. Most people would no longer need these, which were ideal for 2-wheel drive tractors in the past.
How to select right tractor tyres?
It can be challenging to select and purchase the proper tractor tyres, and even a minor error might reduce the performance of your tractor. So, in order to help you with your assignment, here are some suggestions.
1. Determine your needs
What you need is the first and most crucial factor, regardless of whether you want to use your tractor in a field, on the road, in a small farm or a large farm, for a single purpose or for multiple purposes. Make sure you are aware of your needs because different objectives call for different tyres.
2. Be familiar with tyre specs and fundamentals
You should be familiar with tyre specs and their definitions. so that you can choose the ideal tyres for your needs and are aware of how to maintain them.
3. Remember to use the tractor's original tyres.
The tyres that come with various tractors are typically the ones that are best suited for them. Therefore, when purchasing new tyres, you can take into mind the requirements of those tyres.
Look for ways to purchase your Agricultural Tyres cheaply without sacrificing quality: Special deals from well-known companies, alluring financing options