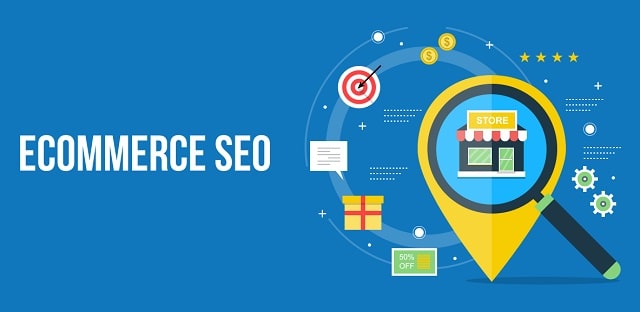 Your ecommerce website's on-page SEO is essential if you want to increase traffic and revenue there.
Online, there are a plethora of how-to articles and tutorials that give general SEO guidance, but very few that target the requirements of ecommerce business owners in particular
Here is a quick primer on on-site SEO for ecommerce. To get you started, send Google the proper signals, and set yourself up for SEO success, this will be sufficient.
Making your online store more visible on search engine results pages is referred to as ecommerce SEO (SERPs). Your goal is to rank as high as possible when people search for items that you sell, so that you may obtain more visitors.
Paid search can get you visitors, but SEO is far less expensive. As a result, you'll want to optimize your site for search independent of ad blockers and ad blindness, which can diminish the efficacy of sponsored search.
As a general rule, ecommerce SEO entails optimizing your headlines and product descriptions as well as metadata, internal links, and navigation for search and user experience. Dedicated search engine optimized pages should be created for each product you offer.
Use Effective Keywords
Your ecommerce website's search engine ranking relies heavily on finding the proper keywords to target. Investigate keywords in depth and choose the ones that best fit your business. When used correctly, long-tail keywords can help you rank high in niches where your rivals haven't yet.
If you choose the right keywords, they can help you get the traffic you want and boost your conversion rates. Take a look at what users are asking and for that you can get e commerce seo services from any digital firm.
Many people are quite precise in their search for information, and they use conversational inquiries to find what they want. Think of your keywords in terms of the users' search intentions while selecting them for your site.
Use Strategic Keywords
An effective way to improve your SEO is to use anchor text. To get the most of these links, you need to optimize your anchor text. With anchors such as "here," you need to make them appear natural; however, you may also include strategic keywords that you want to rank for. In order to avoid getting punished by Google, you should not utilize the same keywords for all of your anchor texts. Your product descriptions can also direct users to comparable product pages you wish to promote by include crucial keywords.
Never Use Duplicate Content
In the world of online commerce, duplicate material may be a real problem for a business. In particular, eCommerce websites have this problem because of the large number of product descriptions they must provide. It is also common for sellers to describe their items in this way, as they have access to a large number of websites.
Ecommerce websites offer product descriptions that appear on a variety of other websites as a result of this practice.
In addition, filtering and categorizing options might lead to difficulties with duplicate content because such filters produce various URLs with the same information on them. How to address these problems may be found in our post.
Use Optimized Images
Images play a key role in ecommerce shops. They function as a catalyst for a sale. Your photos must be of the highest quality, engaging, and distinctive in order to succeed. If you want bots to locate your photos you need more than just amazing images.
Image search results on Google may bring a lot of traffic to your website. In the ALT tag, you may add useful and distinctive keywords.
Do not Go for Broken Links
You want your visitors to have the greatest experience possible. The last thing you want is to click on a specific page and land on a "Page 404 Not Found." Why broken connections are a bad thing In the future, you should perform frequent crawls to see whether you have 404 difficulties. Have too many and your business will suffer.
Optimize URL
It turns out that URLs are more essential than they appear to be for your search engine optimization. Your website may be found and crawled more easily by search engine bots when the URLs are optimized. The indexing of your website is also made easier by using proper URL architectures.
Conclusion Many online businesses look for a social media agency without knowing their requirements. This resulted in the chances of failure. You need to understand the market and your business needs before getting help from any SEO company.