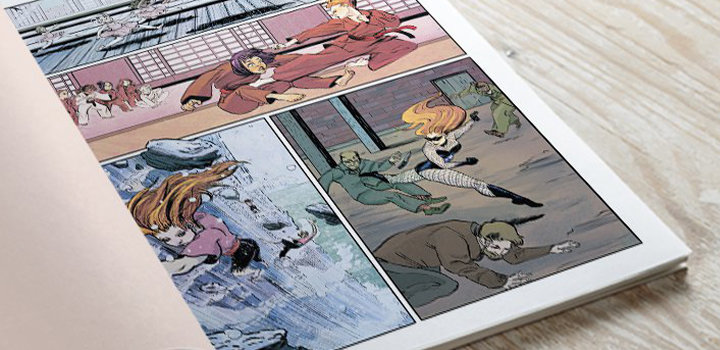 Many people struggle to become an expert comic artist. It requires a lot of persistence, passion, and hard work. As a comic artist first question you should ask yourself, what are drawing skills? Is it only painting a beautiful picture with vibrant colors?
The exact role of the artist is to dive deep into the situation. After that, analyze it deeply, understand the technicality and reproduce it. The illustrations in the comics have to be minutely representing that only a well-trained artist can understand.
For example, we can look at Cameron Stewart Comics and Cameron Stewart art where he worked on major titles such as Batman & Robin, Shazam, Catwoman, and more. Which was all very engaging and creative.
Draw it till you are satisfied:
Before presenting the picture to others, make sure that you are satisfied with your art. Practice till your art gets flawless. Paint the image and repeat it many times until it becomes the aesthetic masterpiece.
There is an old saying practice makes the man perfect. Initially, you may not get the desired output. If you do the repetitive practice, you will attain the level of perfection.
Learn the basic skills:
Unlike other professions, you have to learn basic skills. Eventually, you have to come up with the image that has the finishing, and viewers can easily comprehend it.
Some of the basic skills are reckoning the lines, angles, and edges, calculating the proportion and perspective, using the right tone, shadows, and highlights.
These are some of the basic skills that make you unique. Along with that, you have to use all these skills altogether in your drawing to make it a worthy masterpiece.
Copy your favorite master:
Who is your favorite artist? If you are passionate about drawing, you must be following some of the world-famous artists.
Start your practice by copying their best images. It will give you better insights into this profession. Try to see the picture from their eyes. You will know how they have analyzed, used the tone, shadows, and highlights.
Learning from masters is fun and helps you to level up your skills. This cost-effective method will help you to become an expert.
Ask for feedback:
A piece of drawing may be flawless for you. You have to find if it is understandable by the viewers or not? Before hunting for the job, you not only have to practice a lot but ask for generous feedback from your family, friend, or rather an expert.
You may consider yourself a perfectionist, but actually, you may require far more understanding and practice. So, focus on your career. Keep your cup of ego aside, and ask for constructive feedback as much as possible.
Draw from your nearby surrounding:
You can uniquely craft the masterpiece; all you need is to be innovative. Don't know from where to start? Start capturing the ideas from life. How will you do this?
You may have a park, school, market, or pets nearby. Start articulating those scenes in the form of images. If you start to draw anything from the surrounding, then you are on the correct path and on the verge of becoming an expert soon.
These are the tips that help to excel you in this profession. Do not forget to make a portfolio of your best pictures.