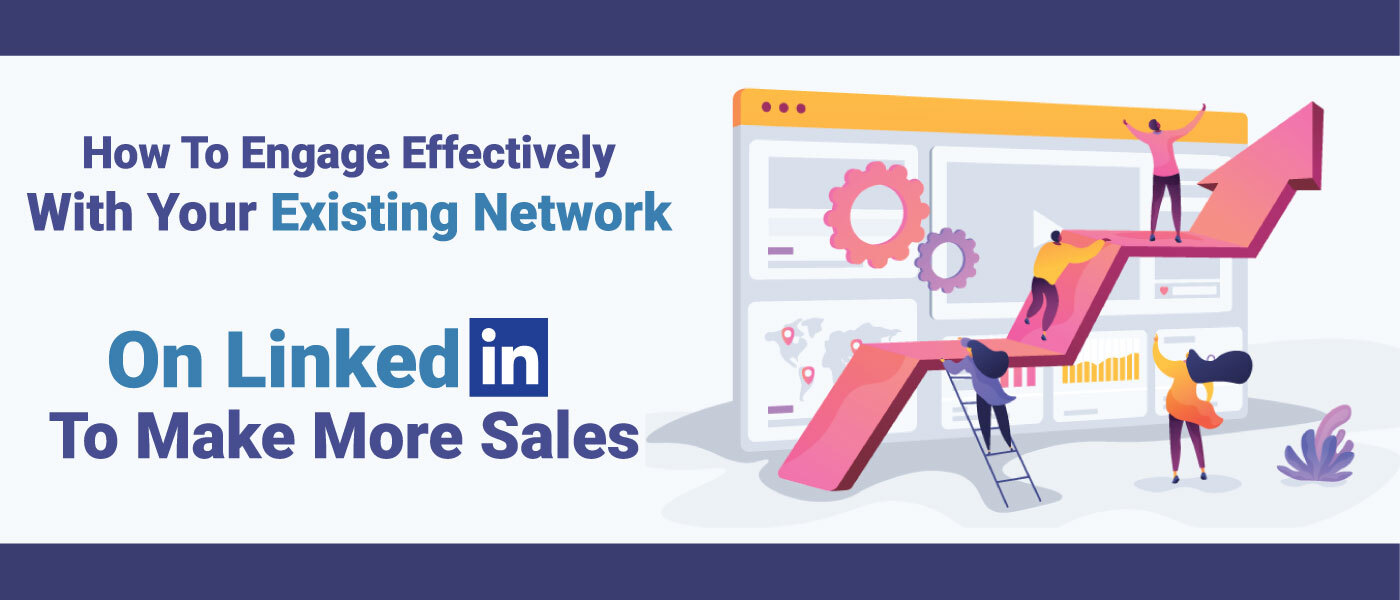 With more than 760 million prospects, LinkedIn is undoubtedly the most influential network out there. Although many people have joined LinkedIn many of them couldn't leverage its potential as they hoped. Why? One of the most common frustrations of users is that they have added a lot of connections but couldn't generate any leads. And that's where the problem lies;
You have connected with the wrong audience
Your LinkedIn network consists of the wrong audience
You might be conveying the wrong messages
A lot of B2B marketers and businesses often use LinkedIn automation tools as well to enlarge their network. But they end up connecting with the wrong people even after using LinkedIn automation tools. Why so?
If you're someone who has been facing this problem, don't worry, you're not alone. To help you take advantage of LinkedIn, we have provided step-by-step guidelines in this article about how to connect with the right people and how to reach out to your 1st-degree connections.
1. Know who your target audience is
This is the first and foremost thing to do. You can't expect a lead when you haven't even defined and refined your target audience.
No techniques or even the best LinkedIn automation tools can't help you when you don't know which types of profiles you want to target.
Thus, the first thing is to analyze your business objectives and research your audience that will be interested in your offerings.
2. Know how many relevant people are in your network
If you want to run a successful LinkedIn automation campaign for your 1st-degree connection, first you need to find how many relevant people are in your network.
If you haven't added relevant people to your network, chances are that this process won't work for you as there are not enough people you can engage with.
If that's the case, you first need to build a network of relevant and industry-specific prospects. You can find people manually, but it will take a lot of time. You can use advanced LinkedIn automation tools to speed up the process.
The latest LinkedIn automation tool extracts out lists of relevant prospects and sends them connect requests automatically. This way, you can build a network of relevant people in a small time.
3. Bring your client avatar
If you have enough people who are relevant and industry-specific, you need to figure out how to target them based on client avatars.
For this, you need to find out the industry type, job position, location, company name, company size, and seniority level of the prospects that you want to target.
With the help of top cloud based LinkedIn automation tools 2021, you can easily collect all the data. These LinkedIn automation tools will store all the data in a CSV file that you can use later on to run highly personalized campaigns.
You can also use LinkedIn Sales Navigator as it is also a great tool to extract out leads and their relevant data.
4. Engage through personalized content
LinkedIn is one of the greatest platforms where you can use the power of relevant and personalized content.
Now that you have extracted the lists of the relevant connections and collected important data about them, the next step is using the power of content to build strong business relationships.
Why is personalized content important? It's because people no longer like to read any templates and sales pitches trying to sell them something.
People show interest in something that talks about them, their interests, and solutions to their problems. If you want to run a successful LinkedIn automation campaign for your first-degree connections, make sure you send them high personalized messages.
If you have a list of thousands of prospects and sending everyone personalized messages seems like a challenge to you, you can always use the best LinkedIn automation tools for this purpose.
Now you'd be thinking about how an automation tool can send personalized messages. Don't worry! There are a number of advanced cloud based LinkedIn automation tools such as LinkedCamp that come with the Hyperise feature to run highly personalized campaigns.
When you run a LinkedIn automation campaign using these tools, you can send custom images and GIFs based on the prospect's avatar.
A number of SaaS organizations that have run hyper-personalized campaigns on LinkedIn saw a significant improvement in their acceptance and response rate.
Conclusion
LinkedIn is an incredibly powerful platform. Many people think of it as a job-seeking platform but its power goes beyond that. With more than 760 million professional prospects, it's an ideal platform for B2B marketers. If you want to leverage the potential of this platform, you need to play the cards right.
Use the best LinkedIn automation tools to build a platform of relevant prospects that can be your potential clients in the future.
Source: https://stevejohnsonstories.medium.com/how-to-engage-effectively-with-your-existing-network-on-linkedin-to-make-more-sales-276f9cc27f26